With the development of payment services and the increasing variety of cryptocurrencies, poker players have more and more options for secure transactions. The once popular Skrill is no longer the most convenient for regulars, especially in the case of those who operate with large sums.
More and more PokerProDeals players are switching to transactions in stabelcoins, the main one being Tether USD (USDT), but some are still distrustful of it, preferring to stay with Skrill. This article will explain why you should worry about quitting Skrill right now and switch to USDT payments.
Disclaimer: the information mentioned in the article is relevant for players who generate $1K or more in rake per month or who regularly conduct transactions with a room of several thousand dollars
Why Skrill is no longer the best choice for poker pro?
To understand what has happened to Skrill over the past year and a half, we have to go back to January 31, 2020, when the UK officially ceased membership in the EU as a result of Brexit. Until the end of the year, the country remained part of the economic space of the European Union, but carried out various measures to withdraw from it and change the terms of cooperation with the union, which caused many of the country's payments, including Skrill, to undergo structural changes. One of the main reasons for these changes was stricter control by regulators.
Skrill has once again increased deposit fees and currency conversion fees by half – to 5% each.
Skrill started freezing the accounts of users who made large transactions for no reason.
It is noteworthy that the service has no clear rules on the amount of transactions at which it sounds the alarm and requests documents. From the experience of our players it is clear only that the amount must be large – transactions up to $1K per month are not checked in this way yet, but the more you transfer, the higher the probability that you will be "frozen" at a random moment without warning and low probability to prove the legality of your income.
What is Tether (USDT)?
Tether is a blockchain-based cryptocurrency backed by U.S. dollars. This means that the value is partially secured by the stock of U.S. dollars held in its bank accounts. Stubcoins, when fully backed by the dollar, have a 1:1 ratio to the U.S. dollar. Unlike the popular cryptocurrencies Bitcoin and Ethereum, stablecoin prices, as the name implies, remain stable.
What are Stablecoins?
The stabelcoin sector seeks to avoid volatility and allow cryptocurrency to preserve assets rather than make risky investments. Stablecoins also provide liquidity in the volatile cryptocurrency market, where it is difficult to convert cash and cryptocurrency, such as bitcoin, back and forth.
The most well-known stable coins are cryptocurrencies backed by U.S. dollars, such as Tether, Gemini Dollar and USD Coin. However, other stable coins use other types of collateral. Some are backed by fiat currencies such as the euro or yen, while others are backed by commodities such as gold and silver.
For comparison, here is a graph of how BTC has changed against the US Dollar over the past year: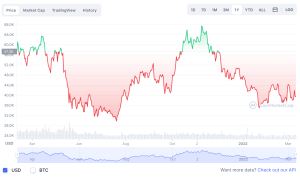 A similar graph of USDT (Tether) exchange rate changes over the past year: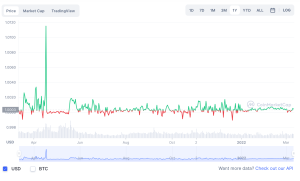 Tether (USDT) Wallets
A fairly wide range of wallets can be used to store USDT: hot and cold. Thanks to compatibility with Ethereum, Litecoin, and Trezor, the range of wallets increases. Let's understand this variety!
MyEtherWallet. This is a web browser wallet that can even be a Chrome extension.
Omni Wallet. This is the original Tether wallet that takes control of users' private keys. This feature makes the wallet extremely secure.
Tether Wallet. This is the official Tether wallet, but it has some problems. The wallet was hacked in 2017, with attackers stealing 31 million USDT. Not the best wallet to store your savings.
Metamask. This mobile wallet allows you to store money on your Android or iOS. It's easy to use and safe for your assets.
Exodus Wallet. This is a desktop wallet that allows you to store the most well-known cryptocurrencies: Bitcoin, Ethereum, Dash, Litecoin and, of course, Tether.
Ledger Nano S. If you want more privacy and security, use the Ledger cold wallet. It costs a little money, but it's definitely worth it.
Where to buy/sell Tether (USDT)?
It is easy to exchange USDT coin due to the large number of platforms that accept this cryptocurrency.
Binance

Binance is the largest cryptocurrency platform, used by millions of traders from all over the world. At first, Binance offered only cryptocurrency exchange: it was strictly a cryptocurrency exchange, and all transactions within the platform were done using digital money.
In November 2019, Binanse started working with fiat. 6 fiat currencies became available to exchange users: USD, EUR, RUB, UAH, KZT, TRY.
In February 2020, the exchange Binance added support for direct purchase of cryptocurrencies with Visa and MasterCard through the payment processor Simplex. Now the list of available currencies for which you can buy cryptocurrencies from the card includes dozens of national currencies and is constantly growing.
Create Binance Account
Bybit

ByBit is a cryptocurrency exchange and trading platform that was founded in 2018. The company is headquartered in Singapore, with offices in Taiwan, Russia, and Hong Kong.
The company provides a P2P trade platform that enables users to trade cryptocurrencies with each other without any intermediaries. The platform also offers margin trading and lending services for traders who want to take bigger risks than usual.
It has the following features:
Trading Pairs: BTC, ETH, LTC, XRP, USDT, BCH, EOS, NEO and more coming soon
Trading Volume: over $1 billion in daily volume (as of January 2019)
Low Fees: 0.1% trading fee on all trades – 0% withdrawal fee for all cryptocurrencies – No deposit fee for any cryptocurrency
Instant Deposit with ByBit wallet or any other wallet that supports the Ethereum Web3 Browser API (MetaMask or Parity)
Sign-up to ByBit
Cryptopay

Cryptopay is an electronic payment system operating since 2013 and being one of the most popular digital currency service providers in Europe. It allows you to store, transfer and exchange BTC, ETH, LTC, USDT, XRP, buy cryptocurrencies with a bank card and withdraw them to a bank account.
There is also an opportunity to order a plastic or virtual CryptoPay card to spend cryptocurrency in everyday life. There are corporate accounts that can be used to receive BTC payments from customers.
Features and capabilities:
Buy bitcoin, lightcoin, ripple and ether from debit or credit card at reasonable prices and with minimal fees.
Receiving and storing cryptocurrencies in your wallet.
Instant conversion and no hidden fees. 1% commission when exchanging one cryptocurrency for another.
CryptoPay prepaid card that links cryptocurrency with traditional finance. Works worldwide wherever there is a card payment terminal, as well as for orders in online stores.
Chat support answers quickly and in detail, going into each individual situation. When the chat is not working (at night), you can ask a question to the bot and popular questions will be answered automatically.
CryptoPay website
Coinbase

Coinbase is a leading platform and wallet for digital currencies where sellers and buyers can transact with new types of digital currencies such as Bitcoin, Ethereum, Litecoin and Bitcoin Cash. The exchange was founded by Brian Armstrong and Fred Ersam in 2012 and is based in San Francisco, California. The exchange is focused on the U.S. market, but the company currently operates in 31 countries and offers bitcoin storage in 190 countries.
In 2014, the company created the Global Digital Asset Exchange (GDAX), a platform for trading a wide range of digital assets and direct exchange of bitcoin and ether for fiat currency. GDAX is designed primarily for professional traders who work with large volumes. The GDAX trading platform was later renamed Coinbase Pro.
Coinbase is quite popular among traders, it provides a wide range of services, fast withdrawal of funds, reliable storage of coins in wallets and opportunities for profitable investments. It is worth noting the presence of licenses, which makes cooperation with the exchange more reliable. This platform is more suitable for more experienced traders who do not really care about their anonymity, but even beginners can understand how to trade and use the service with the help of Coinbase guides and training materials.
Get $10 of Bitcoin on Coinbase
Crypto.com

Crypto.com is a cryptocurrency exchange launched in 2019. The exchange is part of a broader ecosystem that includes other branded services. On Crypto.com, you can buy cryptocurrencies with fiat money, exchange them (over 250 cryptocurrencies are supported), earn cryptocurrency, use leverage, trade derivatives, exchange coins, use a tax tool, buy and sell NFTs and so on. The exchange can be accessed through a mobile app available for both Android and Apple devices. If you prefer to trade using the larger screen of your laptop/computer, you can use the web version, which can be accessed through an Internet browser. According to the exchange's website, the engine used on Crypto.com is capable of handling up to 2.7 million transactions per second.
As of January 2022, Crypto.com is ranked 10th on CoinMarketCap's list of exchanges with the highest trading volume. The exchange ranks 4th on a similar list on the CoinGecko website. Current trading volume is nearly $4 billion. The exchange has 10 million users from 90 countries. The CEO of the exchange is an experienced entrepreneur Chris Marszalek.
Crypto.com $25 Sign Up Bonus
AdvCash

Advcash is an online payment processing and money transfer system that has been operating since 2014. It is a Belizean company, in addition to Advanced Cash Limited, the name AdvCash appeared in 2014, compared to PayPal and other market leaders, this EPS can be called a newcomer to the market. ADV Project Limited also belongs to the payment system.
Funds from Advcash wallet can be exchanged for other payment systems (Payeer, Perfect Money, Qiwi, etc.); cryptocurrencies Bitcoin (BTC), Ethereum (ETC), Bitcoin Cash (BCH) or use any other withdrawal methods. Advcash is used as a way to deposit or withdraw funds in many investment projects, cryptocurrency exchanges, as well as a method of payment in online stores and to receive payments from customers.
Since January 2015, you can order a MasterCard in dollars or euros on the AdvCash platform. With this card you can withdraw your earnings by transferring them to your Advcash wallet, and then withdraw them at any ATM, making a transfer to a plastic bank card Visa / Mastercard of any bank. You can order and withdraw money to a prepaid card, transfer to other e-wallets, exchange to cryptocurrency, etc.
Create Free Account Now
BitPapa

Bitpapa is an international P2P marketplace that helps you securely buy or sell cryptocurrency. Transactions are conducted between people – Bitpapa provides reliable protection by keeping the seller's cryptocurrency in a special Escrow account until the transaction is completed. The platform has been in operation since 2018.
Bitpapa mission is to offer the best services and technological solutions in the international market to help users easily buy, sell and safely store cryptoassets.
Features
No transaction fees. Sellers and buyers pay no fees for secure transactions and transfers within the system. We charge 0.5% fee for withdrawals to external addresses
Over 100 payment options. Choose the payment method convenient for your country to buy or sell cryptocurrency
Telegram Bots. Bitpapa Express – to buy bitcoins without leaving Telegram. Bitpapa Trades – to manage your trades.
100% Security for every transaction. All transactions are performed using a special Escrow account
Secure and free wallet. Safe way to store, send and receive Bitcoin, Ethereum and USDT
Application for iOS and Android. All the functionality of the marketplace and cryptocurrency wallet in your smartphone
Visit Bitpapa
Which poker rooms accept cryptocurrency?
Here are poker rooms where you can make deposits via Bitcoin/ETH/USDT and other cryptocurrencies.
Mobile Poker Apps
Mobile poker apps have become one of the main online poker trends in recent years . They have opened to players from Europe the special world of the Asian poker boom. In addition to moving us back to the noughties in terms of field level, mobile apps have a very unusual way of organizing the game. One of the pluses of the game is that you can fund your account any way you want. The PokerProDeals team has launched the AppPokerDeals project, which works exclusively with poker apps.
To start playing and see our list of clubs in PPPoker, PokerBros, ClubGG apps, contact our manager:
PPPoker
PPPoker is not really a standard poker room, but a mobile app used by many recreational players from Asia and America. The game in this app is played through closed clubs. PokerProDeals managers can help you fund your account using cryptocurrency.
Regardless of the club, play at the cash tables in the range of limits from NL50 to NL2K is available at any time. In addition to Hold'em, you can play Pot Limit Omaha and Chinese Pineapple poker here. The app can be installed not only on your cell phone, but also on your computer, from which you can use programs to collect statistics through a converter.
Rake at cash tables, depending on the limit and club, can vary from 2-5%, which is the lowest among the reviewed poker rooms. Our players can get an increased rakeback of up to 40%.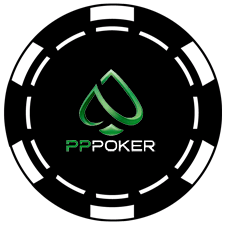 Fish Players
Good Action
The best place to play poker in 2022. PokerProDeals gives you access to the best clubs from around the world with weak players!
Network: Independent
Rakeback: 50%
Amateurs from Asia
High stakes heads-up tables
very weak fields in expensive games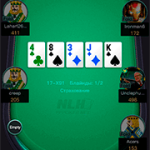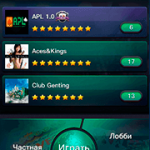 ClubGG
The world's largest poker network GGNetwork has released its mobile application for playing in private clubs called ClubGG. By its principle of the game organization this application is similar to PokerBros and PPPoker, and can successfully compete with them. Over the creation of software worked experts from NSUS Limited, and the product in beta version was released in January 2021. The game at ClubGG clubs is played in a conventional currency – Diamonds. However, diamonds have a real value and can be bought for money. To make deposits and cashouts, please contact our account manager. We will also help you find a club that will meet all your requirements and wishes. Our agents will ensure quick transactions and guarantee the safety of your funds.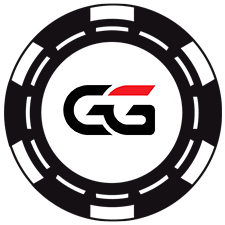 New App
Fish Clubs
New Mobile Poker Application. A lot of clubs with fish players
Network: Indipendent
Rakeback: Ask Manager
New Application
Fish Players
New Application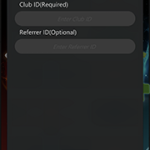 PokerBros
PokerBros is a popular mobile poker app. It appeared in 2019 and is a better version of such operators as PPPoker and Upoker. The main advantage of PokerBros is its advanced design, spectacular graphics and high functionality.
The poker application brings together at the tables thousands of players from all over the world. PokerBros is especially popular with poker fans from Latin America and the United States.
PokerBros works on the same principle as other applications, so the game is played inside the clubs on conventional chips. However, each of these chips has a real monetary value. During the deposits and cashes with the help of agents the conversion of electronic money into the game currency and back takes place. To start playing, all you need to do is to get an ID when you register, choose a PokerBros club and indicate the ID of the club and agent when you join. For club and agent numbers, just ask our manager.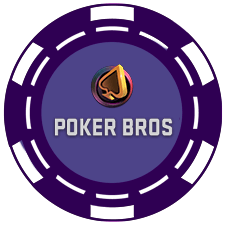 Good Action
OFC Pineapple New Poker Room
New mobile poker application. Many players from USA, with low IQ. Fixed rakeback deal and access from PokerProDeals
Network: Independent
Rakeback: Up to 50%
Many USA Players
Good traffic
OFC Pineapple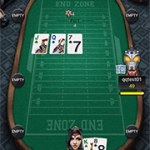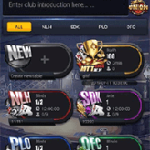 Classic Poker Rooms
In traditional poker rooms you can deposit your account with cryptocurrencies through the cashier, in your poker client. If you have problems with recharging your account via cryptocurrencies in one of the poker rooms listed below, please contact our manager in any way convenient for you:
GGPoker
The network's flagship poker room, GGPoker, is currently ranked number one in cash traffic in the world. In all rooms of GG Network our players can receive increased rakeback, starting from 50%.
Cryptocurrency deposits are available at the cash desk of the poker room. There is support of two coins – Bitcoin and USDT (ERC20).
GG Network began its development in Korea and gradually spread not only to all Asian countries, but almost to the whole world. Among the main rooms of the network, along with GGPoker, can be distinguished BestPoker, BetKing and .
A large percentage of visitors are concentrated at 6-max cash tables with limits from NL10 to NL1000. Omaha is just as popular on the GG Network as Texas Holdem. That's why action at PLO cash tables happens at all times across the entire limit range. Fast poker here is represented by four limits – from NL1 to NL100. Fans of tournaments can find regular MTTs here, but SNGs are absent.
Among the disadvantages of the GG Network is the absence of heads-up tables – a format that is loved by many registrants. Also the rooms of the network do not support poker trackers. However, this disadvantage is completely leveled by the weak field.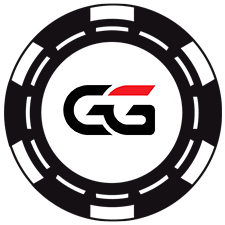 Good Rakeback
Fish Players
Flagship room at GG Network. Good traffic and very weak fields
Network: GG Network
Rakeback: over 50%
Recreational players from Asian countries
Very weak fields at all the stakes
Push or Fold tables
Direct cashier
Poker software is prohibited
No heads-up tables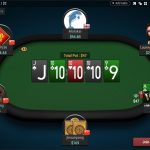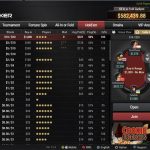 TigerGaming
TigerGaming is a young American poker room focused on attracting recreational players. It is part of the Canadian network Chico, which also includes such rooms as TigerGaming, BetOnline, SportsBetting. Rake in the rooms is a bit higher than average – 5.5% with a cap of $0.25-3, but thanks to a good rakeback it is very profitable to play in the Chico network. Wagering the first deposit bonus allows you to add 20% rakeback. Also in network roums often distribute reload bonuses which also allow returning a part of rake. Participation in rake races can bring up to 17% in the form of rakeback.
You can fund your account at TigerGaming using the following cryptocurrencies:
Bitcoin
Bitcoin Cash
Cardano
Chainlink
Dogecoin
Ethereum
Litecoin
Ripple
Stellar
Tether (USDT)
The Chico network lags slightly behind the previously discussed networks and rooms in terms of traffic volume, but attracts a weak field consisting of Canadian and American amateurs. In addition, it is one of the few US networks that allows poker trackers, albeit through a converter. Therefore, Chico is a great place to play, both low, medium and high limits.
The cash tables are represented by limits ranging from NL2 to NL2000. At the max stakes, play is observed at prime times – night and morning across Europe. Pot-limit Omaha in Hi and Hi-Low formats is represented by PL10 to PL1000 limits. Besides standard for Chico network 4-max, 10-max and 9-max tables, heads-up tables are also collected here. Besides that, there are a lot of tournaments with buy-ins up to $100 and guarantees up to $50,000 in TigerGaming, BetOnline. There are also SnG tournaments with limits up to $215.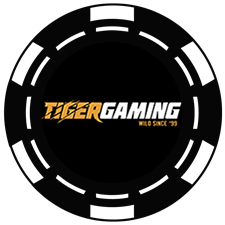 US Players
Good Traffic Fast Cashouts
Chico Poker Network, recreational players from US and Canada, good traffic, fast cashouts! We give you top rakeback deal.
Network: Chico Poker Network
Rakeback: Up to 60%
Recreational players from US and Canada
Good traffic
Fast cashouts (within 24 hours)
7.5% of the deposited amount is deducted from the rake
Paid converter for stats display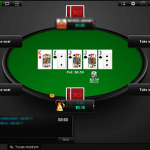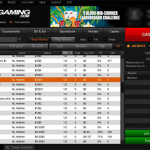 PokerStars.it
The Italian poker reservation PokerStars.it is great for cash players of any limit. To sign up with this very weak field and fund your account with USDT, try PokerProDeals affiliate services. You can experience all the benefits of playing in the most convenient and advanced poker app against weak Italian poker players. PokerStars.it is currently in the top 10 most visited poker rooms in the world, with an average daily traffic of 800 people and a maximum attendance of 1,750 players. The peak traffic is in the evening hours in Europe.
Short tables with limits up to NL1000 are especially popular at PokerStars.it. PLO is also quite developed – there are 5-10 tables on the PLO50 limit and 1-2 tables on the PLO1000 limit. There are about 10 cash tables in heads-up play on each of the limits from NL100 to NL600.
In addition to a weak field and good attendance, PokerStars.it also attracts poker tracker support. The rake at all cash tables is 5.5% with caps up to €3. To find out the maximum possible rakeback you can do in this room, contact our managers.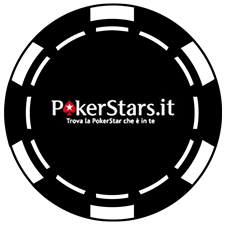 Italian Reservation
Good MTT Traffic
Poker Stars is the largest poker site in Italy and for players choosing to use Italian language. It is also the most popular poker room in Europe with the most games and the best poker software
Network: Independent
Rakeback: VIP Deal
High traffic at all the stakes
Weak level of play
Heads-Up tables up to NL1K
difficult and expensive set-up
low rakeback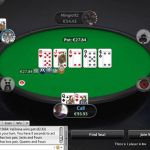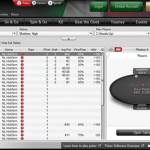 PokerKing
Another American room, PokerKing, is part of the Winning Poker Network. At the moment Poker King is the largest poker room, where American and European poker players can play together.
PokerKing attracts regulars because with an active game here you can get a very good rakeback. This room is also interesting for regulars because of its weak field. There are especially a lot of chips at cash tables with limits up to NL25. Third-party statistics software is supported, which allows experienced players to have an even greater advantage over the field and make more profit.
The only disadvantage of PokerKing can be called inconvenient for Europeans peak traffic, which falls on the period from 12.00 am to 8.00 am CET time. Just at this time the number of visitors to the room can reach 6,000 and at the tables there are the most weak American players. Players can play the full range of limits up to NL5000 and PLO5000. There are heads-up tables, mostly on limits 100-200. One of the biggest advantages of Winning Poker Network is the big rakeback which can be up to 70%.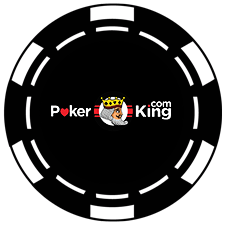 Good Rakeback
MTT Traffic US Players
70% rakeback if you sing up now! A lot of recreational players from US and Canada, good PLO and MTT-traffic.
Network: WPN
Rakeback: Up to 70%
Many recreational players from US
Good rakeback
Good PLO and MTT-traffic
Second and succeeding cashouts in the month have additional fee of 5%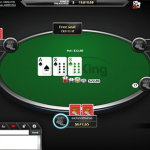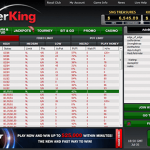 RedStar Poker
RedStar Poker is the flagship iPoker room, focused on EC residents. This room is notable for high attendance (about 6 thousand connections in the evening) and a wide range of disciplines and poker formats. Most of the games are played at 6-max cash tables by No Limit Hold'em rules. There are 25-40 tables at NL2, NL4 and NL10. Also a very popular limit is NL100, which collects up to 30 tables. There is also play at the most expensive tables with the limit of NL1000. At the RedStar Poker cash desk you can deposit and withdraw in the most popular cryptocurrencies: Bitcoin, Ethereum, Litecoin.
In addition to standard Hold'em, Red Star Poker offers Hold'em 6+ and Pot Limit Omaha. There is fast poker, SNG tournaments and lottery games (Twister). There are about 50 daily multi-table tournaments with buy-ins up to 50 euros. On the weekends there are tournaments with an increased guarantee.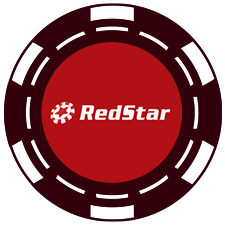 Good Rakeback
HU-Tables
RedStar Poker players signing up via PokerProDeals earn top rakeback deal
Network: iPoker
Rakeback: 40-45%
Lots of action at all stakes
Reliable partner
Comfortable software
Good Rakeback
No Belarus regular players